Upgrade 2023: Scaling the future
March 16, 2023 // Upgrade 2023
Bennett Indart, Vice President, NTT SMART World Solutions
Why Measuring is the First Key Step to Attaining Sustainability Goals
In his talk at the recent NTT Research Upgrade 2023 event, Bennett Indart made it clear that "sustainability is in our vernacular" and is here to stay. The challenge now is for companies to improve their capabilities around measuring sustainability efforts so they know where they stand, where they're headed, and what steps they can take to improve.
Indart is VP with NTT SMART World Solutions, which makes an array of tools to help in that effort. He laid out some of the history of the sustainability movement, beginning with the first observation of Earth Day in the U.S. on April 22, 1970, noting it quickly went global.
"In 1990, just 20 years later, 200 million people in 140 different countries were celebrating Earth Day," Indart said. Today, "it has become the largest secular single day movement on the globe."
Amid that kind of interest in, companies today face pressure from the public, including social media, as well as governmental organizations to improve their sustainability efforts. And they are taking it seriously.
A poll of 350 corporations conducted by NTT and the Wall Street Journal found they ranked optimizing for "low/no carbon footprint" as their number one priority with respect to sustainability efforts, Indart said. Nearly half said it was already part of their current mission while only 2% said it was not part of their framework.
But there was a caveat: only 16% of companies said they were currently measuring their carbon footprint. "As someone who's taking these types of things to market in NTT, I looked at that and I said, 'This is a problem that we can solve,'" he said.
Guidelines exist to help companies determine what to measure, notably the Greenhouse Gas Protocol. It defines three categories, or scopes, of emissions:
Scope 1: Direct greenhouse gas (GHG) emissions
Scope 2: Indirect emissions from purchased electricity or other forms of energy
Scope 3: Emissions from upstream and downstream activities in an organization's value chain
Adding to the pressure is the fact that the U.S. Securities and Exchange Commission (SEC) will soon require companies to start reporting on their emissions, he noted.
He proposed a 3-step solution to the measurement problem. Step 1: "Collect and measure. If you can't measure something, it's really impossible to manage it." That means collecting data on your current emissions, which entails knowing where it exists, such as in a building management system and electrical utility providers.
Step 2 is determining where you're headed, which involves trend analysis and projections. That will enable companies to say with confidence they will be carbon-neutral by a given date.
Step 3 is optimization. If the first two steps are done correctly, you should now have a digital twin that enables you to conduct "what-if" scenarios that help you optimize sustainability efforts before actually implementing them, as well as examine the financial implications of various efforts.
"Now I'm making much more insightful business decisions for my company, for my shareholders, for my environment," Indart said.
Through its Truth in Sustainability effort, NTT can help companies implement the solutions required for all three steps. The solution is powered by the NTT Smart Management Platform (SMP) and includes a catalog of other smart solutions. Together, they provide a graphical view of business performance and other characteristics leveraging advanced analytics, data science and AI. SMP has been used in industries as varied as Indy Car racing, manufacturing, transit, and the public sector, supporting several smart city initiatives.
Bennett Indart is a senior executive in the NTT family. He leads the overall global strategy and development of the NTT SMART Management Platform solution portfolio. His focus is driving innovation around IoT and AI, capitalizing on emerging trends in analytics, data science and digital twins, as well as promoting data-driven decision making with cross-industry Smart Solutions including Sustainability.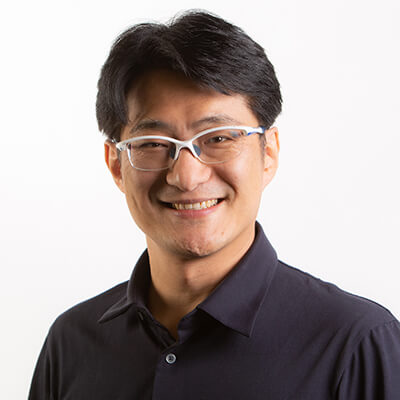 NTT Research Vice President of Strategy
Kei Karasawa has been leading research and development (R&D) at NTT for more than 20 years. He is currently the vice president of strategy at NTT Research, Inc. From 2015–2019, he worked with the R&D planning department at NTT and built cooperative relationships with NTT operating companies around the world to deploy NTT R&D technology to global markets. He led applied R&D at NTT EAST from 2011–2015 and put the technology into practice in developing network services. Prior to that, he researched network software technologies, implemented patented software, such as security and distributed systems, and developed commercial services for the Next Generation Network. In 2005, he conducted basic research on cryptography and information processing as a visiting scholar, with Prof. Dan Boneh, in the Security Laboratory at Stanford University. He holds a doctorate of engineering in data-driven parallel computer technology and has extensive knowledge and experience in information processing-related technologies, from basic technology to applications. Personal interests include sports, like tennis and golf, and travelling with his wife and kids.
MORE videos from NTT's upgrade summit, september 2021